Macklemore - The Town
I REALLY LIKE THIS VIDEO. THE CAMERA WORK IS DOPE.
IT WAS ALSO COOL TO HEAR MY NAME SAMPLED IN THERE AT THE BEGINNING & TO HEAR MACK RHYMIN' ABOUT SHOWS LIKE HIEROGLYPHICS & ALKAHOLIKS AT THE RKCNDY. DJ SCENE ALWAYS TOLD ME THAT'S WHERE HE FIRST SAW ME SPINNING.
I REMEMBER FIRST HAND & ACTUALLY PROMOTED AND DJ'D SOME OF THE CLASSIC UNDERGROUND SHOWS AROUND TOWN IN THE 90S SUCH AS THOSE TWO AS WELL AS BLACK MOON, GZA, PETE ROCK & CL SMOOTH, ETC... OF COURSE I DJ'D TONS OF SHOWS WITH EVERYBODY MENTIONED IN THE SONG SO IT REALLY HITS HOME.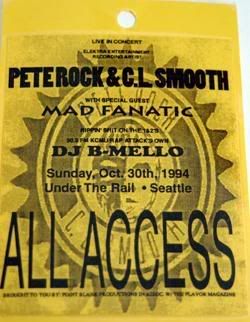 SEEING PICTURES AND FLYERS FROM THE TOWN IS ALSO DOPE. HERE'S ONE OF MYSELF, ISH (DIGABLE PLANETS/SHABAZZ PALACES) & HIS DAUGHTER OBVIOUSLY TAKEN ON THE SAME DAY AS THE ONE WITH HIM & MIKE C. AT OUR KCMU "RAP ATTACK" RADIO SHOW.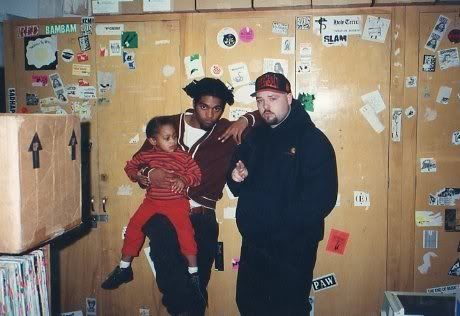 ALSO GREAT TO SEE THE ZULU'S REPPIN MY DUDE TALKSICK! RIP TO MY MAN JAMES "TALKSICK" SULLIVAN WHO WAS AN AVID SUPPORTER & FAN OF HIP-HOP. WE HAD PLANS TO ARCHIVE ALL MY MIXTAPES, BUT HIS LIFE WAS CUT SHORT! BIG SHOUT OUT TO HIS LADY CASSANDRA WHO'S TAKING OFF WHERE HE LEFT OFF IN HIS QUEST TO ARCHIVE & DOCUMENT A LOT OF THE HIP-HOP CULTURE FROM THE NORTHWEST & BEYOND!
IN CLOSING I JUST WANNA SAY THAT THERE WAS A VIBRANT & PROMISING SCENE IN THE 90s IN SEATTLE & IT DIDN'T START THERE. ALL THE WAY FROM THE 70s ON UP SEATTLE HAS BEEN PUTTING IT DOWN AS FAR AS HIP-HOP. THE COOLOUT NETWORK HAS A DOCUMENTARY THAT WILL BE COMING OUT THAT WILL SHED SOME LIGHT ON THE HISTORY, BUT DON'T STOP THERE. TAKE SOME TIME & BUILD WITH SOME OF THE O.G.s IN THE AREA. I'M SURE MOST HAVE STORIES FOR DAYS!!